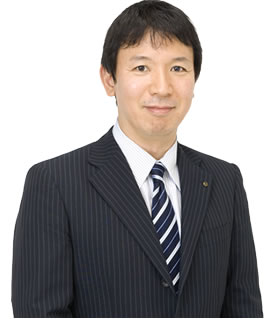 Tetsuyuki Mochizuki, Managing Director

1. Based on our sincerity and honesty motto we strive to protect our trust
After more than 140 years since our foundation we would like to express in the company of our staff our deepest thanks to our faithful customers whose trust we have always strived to earn through sincerity, honesty and an incessant respect of traditions.
2. We create original products nurtured by tradition to satisfy the needs of customers.
We are developing products to satisfy the needs of our customers along the changes of eras. Moreover, since our foundation we have always strived to live up to our reputation and experience earned through many Prizes and requests by the Imperial Court and Family stimulating our pride in offering the best products to our customers with a constant eye for perfection and originality.
3. We deliver all over the country our products along our policy of offering
"Delicious Daily Products" and "Presents".
Our products have earned the name of "Shizuoka Famous Product" since the Meiji Era. Next not only we will strive to earn the expectation of our customers but we will put all our efforts in delivering our "Delicious Daily Products" and "Presents" all over Japan.
4. At all times freshness will be our utmost concern.
Our products are living through their fermentation capacity. Accordingly we attach the utmost importance to the hygiene of our products as well as that of their manufacture and sales. Although we use no artificial coloring or flavoring we never cease to ensure the longevity and the best quality in taste along with the safety of our customers.
5. We feel the responsibility to serve our country gastronomy and society by
always going the estra mile.
We have always endeavored to match our products with the Japanese way of enjoying food from the very beginning of our existence. It our pride to introduce our Japanese gastronomy to positively compete with that of other countries. Moreover we feel it our personal responsibility to actively contribute to the solving of food problems of our society.